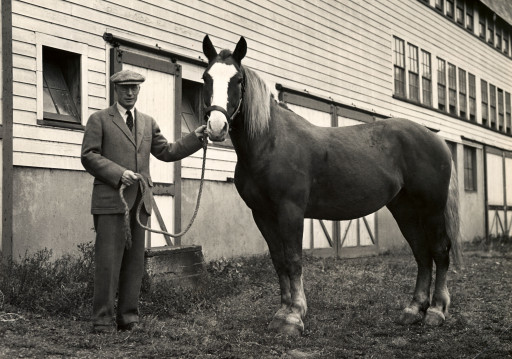 2006 award-winning agricultural documentary "Farmboy" to be remastered and reissued
Project to implement artificial intelligence to dramatically improve visuals originally generated using early digital filmmaking technologies

SE Babcock at Sunnygables
Cornell University Board Chairman SE Babcock and a prized horse at Sunnygables Research Farm, Ithaca, New York, 1930.
LITCHFIELD, Connecticut – April 14, 2022 – (Newswire.com)
Mainspring Narrative Films, along with producer/director Jake Gorst, today announced that the 2006 documentary film farm boy is set to be remastered and released on public television, digital streaming and cinema screens in fall 2022.
farm boy was originally produced using the first digital filmmaking technology, which did not hold up to modern standards. "It was filmed with a Panasonic AG-DVX100 camera, which was popular in the early 2000s with independent filmmakers because it produced a film-emulating look," says Gorst. "But it looks blurry compared to modern digital productions. We pulled it from distribution over ten years ago for this reason. But, with the current artificial intelligence [AI] software and creative techniques that we have developed, we will now be able to breathe new life into our film – and we are very excited about it.
The film traces the story of a 1930s research farm in central New York where groundbreaking farming techniques and equipment were developed. It won a 2007 News and Documentary Emmy® Award for the soundtrack, composed by Richie Saccente and S. Cosmo Mallardi, with contributions by Gorst.
"The story of the Sunnygables Research Farm and the Babcock family is important to a full understanding of American agricultural development in the 20th century," Gorst said. "Every table in America has experienced the changes brought about by this farm. Innovative principles and programs developed by Cornell University Chairman of the Board of Trustees, HE Babcock, helped preserve and advance the agricultural industry during the Great Depression in the United States – and are still saving farms in other countries today.
Mainspring Narrative Films, a 501(c)(3) non-profit corporation, produces quality educational documentaries focusing on art, architecture and cultural history. The society strives to foster a better understanding of our modern world by conducting extensive research into the past and releasing films that often include previously unknown archival footage and documents.
Contact information:
Mainspring Narrative Films, Inc.
Susan Leigh Babcock
Director of development
(607) 351-3838
[email protected]
press release service
by
Newswire.com
Primary source:
2006 award-winning agricultural documentary "Farmboy" to be remastered and reissued