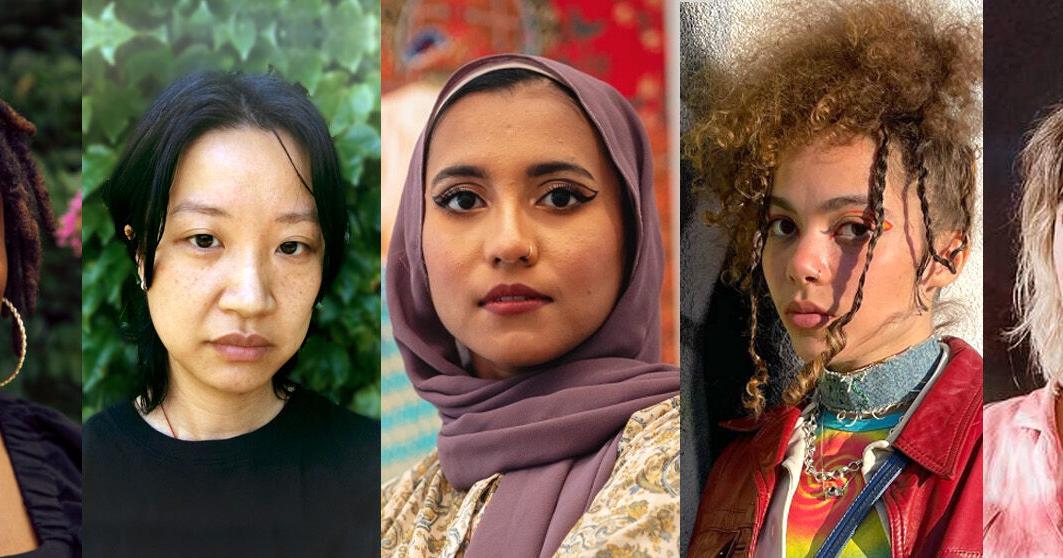 Anderson Center spotlights artists in residence | Local News
The Anderson Center in Tower View welcomes emerging artists in residence throughout the month of August.
Writer Camille Wanliss, music creator Isa Reyes and visual artists Lily Jue Sheng, Azzah Sultan and Rachel Collier were each selected by a jury in March from a competitive pool of more than 300 applicants.
Thanks to the support of the Jérôme Foundation, each artist receives an allowance, assistance with documentation, travel fees, etc.
Anderson Center's Emerging Artist Residency Program aims to meet the specific needs of early-career artists from Minnesota or one of New York City's five artist boroughs while welcoming them into a supportive environment. supportive and inspiring residence that allows them to take risks and overcome challenges. .
On Saturday, August 20, from 1 to 4 p.m., a series of concurrent public art-making workshops, open workshops, presentations and artist demonstrations will take place in North Studios at the Anderson Center.
Participants will have the opportunity to meet the artists, learn about their equipment and techniques, or take part in workshops around needle felting, zine making, collage making, historical fiction and video production.
Isa Reyes, musician, multidisciplinary artist composer, from August 2 to 31
New York-based multidisciplinary artist Isa Reyes composes and performs music that blends R&B and indie pop to create a uniquely atmospheric sound. Striving to reflect the places where they have found their home, Isa makes music to connect, heal and empower others, especially those who carry the weight of the past. Isa's multidisciplinary practice is intimately linked to my identity and an expression of past, future and present.
At the Anderson Center, Isa is working on the development of a second EP titled "Graze". The EP is a sonic and visual exploration of birth, loss, control and production as they have been present in Isa's life and collectively experienced as a society, particularly as they relate to the current pandemic. On August 20, Isa will lead a Zine-Making workshop at 1 p.m. in the North Studios courtyard of the Anderson Center. Participants will participate in activities and exercises that use multimedia techniques to create a zine centered on their individual inspirations.
Lily Jue Sheng, film/media artist, August 2 to 31
Lily Jue Sheng is a New York-based artist/filmmaker whose works span moving image, collage, text, performance, and installation. Lily's current work uses speech and writing to sort out the noise of language attrition, code-switching, and attachment to place. Their recent screenings include: Rotterdam International Film Festival, Beijing International Short Film Festival, RIDM Montreal International Documentary Festival and Winnipeg Underground Festival.
At the Anderson Center, Lily is completing production and post-production work on Mazu, an experimental mid-length essay/film that blends 2D collage animation with original footage, recordings, and research conducted while traveling. in Taiwan in 2019 during the Dajia Mazu pilgrimage. On August 20, Lily is offering a walk-in collage workshop in the North Studios courtyard from 1-3 p.m. Lily will lead different exercises and provide prompts as participants cut/black out images from various magazines, books and articles in order to patchwork and glue them into new creative arrangements.
Azzah Sultan, multimedia artist, from August 2 to 31
Born in Abu Dhabi, Azzah Sultan is a Malaysian who grew up in Malaysia, Saudi Arabia, Finland, Bahrain and spent six years in America working on her artistic practice. Based in New York, Azzah's art practice combines performance and mixed media to investigate personal experiences and explore various aspects of childhood nostalgia, memory materials, and family connections. Her work strives to transcend the fallacy that Muslim women are oppressed by the nature of their religious customs. Her work also speaks to the issues of navigating her identity through culture and immigration.
At the Anderson Center, Azzah experiments with projection mapping, chroma keying, and digital distortion. Using family images and archival textiles, her current work explores the making of memory. On August 20 from 1 to 3 p.m. at Anderson Center North Studios, Azzah opens its video production workspace to the public, offering a mapping and keying video presentation at 2 p.m.
Camille Wanliss, fiction writer, from August 2 to 31
Camille Wanliss is a Caribbean writer based in New York. Much of her writing explores the impact of family estrangement and hereditary trauma through the lens of Afro-Caribbean identity. Camille aims to create complex yet precise representations of Caribbean identity while challenging the boundaries of Western culture. She is a 2022 Periplus Fellow and her work has been published in Plantin Mag, Raising Mothers, Anomaly, and Kweli Journal, among others.
At the Anderson Center, Camille is working on revising "An Ornament and a Disgrace," her manuscript for a historical novel set in 1962 Jamaica about land and inheritance. The work is rooted in an Afro-Caribbean tradition that decenters standard English in favor of Jamaican patois – a hybrid dialect made up of British English and West African influences. On August 20 from 2 p.m. to 4 p.m., Camille offers a historical fiction writing workshop without an appointment. Participants will read a brief excerpt from his work, discuss ways to develop historical fiction in a time of their choosing, and create a work based on this prompt.
Rachel Collier, interdisciplinary visual artist, from August 2 to 31
Based in Minneapolis, interdisciplinary visual artist Rachel Collier uses the visual language of maps, topography, insets, picture-in-picture, scale and materiality, and vibrant color to create abstract, large-scale, multi-dimensional paintings and wall rugs that evoke a sensation. with calm buoyancy. Her work deftly navigates between spaces that point to a spectrum of possibilities: space between painting and sculpture, space in a dialogue of opposing thoughts.
At the Anderson Center, Rachel combines elements of drawing, painting, textiles and sculpture to create new works that will be featured throughout 2022 and 2023. Rachel's recent works aim to convey confidence, eagerness and resilience. On August 20 from 2-3 p.m. in the Anderson Center's North Studios, Rachel opens her painting and media fiber studio to the public. At 3 p.m., she offers a needle felting workshop where participants will learn how to use traveling wool as an alternative to paint. Space is limited for the workshop and advance registration is strongly encouraged.