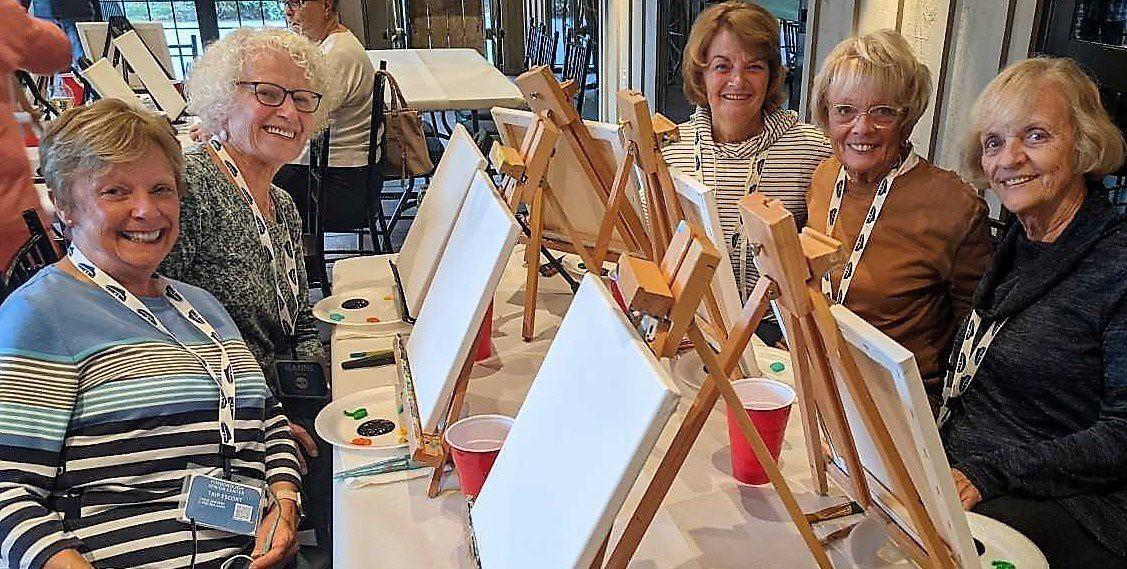 Discover the Benefits of a Revocable Trust at the Seniors Center | Around the city
[ad_1]
My brother / sister / friend has a revocable trust. Should I take one? Do i need it? Join us on Monday, November 15 at 1 p.m. for our show on revocable trusts: what is a trust? Reasons and benefits of having a revocable trust, how revocable trusts work, the basics of estate tax, and using revocable trusts to save on estate taxes. This program is hosted by the law firms of Patricia L. Nagle, PC Register in advance to reserve your seat.
MEN'S FITNESS LESSONS
The senior center is offering another men's fitness class on Thursdays at 10:35 a.m., starting November 4. This 6 week program is designed to help older men get moving and feel better. We combine fitness and corrective exercises to relieve joint pain and promote better mobility. All ages and fitness levels are welcome. The program is hosted by Steve Avellino CFT, CES and will take place on November 4, 18, December 2, 9, 17 and 23. The cost is $ 42 and must be paid at the time of registration.
FRIENDS
Join us on Tuesday, November 23 at 4 p.m. for our annual Friendsgiving meal. This modern tradition is a great way for friends to get together for a meal before Thanksgiving. This year, come join your friends at the senior center for a good meal and enjoy some time to socialize with others. The cost is $ 4 per person and must be paid at time of registration. Spaces are limited, so register to reserve your spot.
PIE CONTEST
Get ready for Thanksgiving! Join us for a pie giveaway on Tuesday, November 23 at noon. Choose between a FREE apple pie or pumpkin pie, provided by Keller Williams' real estate team Sue Marshall. Quantities are limited, please register in advance.
MODELS OF MOTION FOR BRAIN HEALTH 2
Join us for this 6 week Brain Health 2 program designed as a follow-up to Brain Health 1. We will be incorporating similar movement patterns to the 1st program, but we will use tempo changes to stimulate new neural programs. We will continue to work on "reaction times" in the upper and lower body.
This will not only trigger neurons in the brain, it will improve our "trip reflex time" and improve eye / hand coordination. The program is hosted by Steve Avellino CFT, CES, SSF, SSN, and will be offered on either Monday or Thursday. Monday classes will take place at 11:45 am on the following Mondays: November 15, 22, 29, December 6, 13 and 20.
Or you can choose to take the course at 9 a.m. on the following Thursdays: November 4, 18, December 2, 9, 16 and 23. The cost for the Monday or Thursday course is $ 42 per person. Places are limited and you must register in advance with your payment.
MEDITATION
Meditation is a state of deep peace that occurs when the mind is calm and silent. Join us for our meditation classes at the Seniors Center on Tuesdays, starting November 2, from noon to 1 p.m. Learn how to create peace of mind and go on a mini meditation vacation every day!
Each class focuses on breathing, improving posture, and practicing different methods of meditation, including writing your own guided meditation.
In these uncertain times, you deserve moments of calm personal reflection.
The cost is $ 3 per class and is eligible for the punch card. Please register in advance.
MEET THE REGISTERED DIETITIAN
Feel like COVID and quarantine haven't helped your nutrition and health? Join us on Monday, November 8 at 2 p.m. for a discussion on nutrition and health tips to apply in your everyday life! Kelsey McEntee is the HESSCO Registered Dietitian with experience in inpatient dietetics and nutrition counseling. She has a passion for helping people lead healthier lives and is happy to be available to discuss nutrition related topics with you. Register to save yourself a seat.
PREVENTION OF FALLS
The Norfolk County Sheriff's Office will be visiting the Foxboro Senior Center on Tuesday, November 9 at 1 p.m. to host a short presentation on falls prevention. This program will include home safety tips as well as a demonstration on how to get up safely from a fall. Please register in advance.
REDUCE OR STAY
On Wednesday November 10 at 4 pm, Team Impressa, LLC will be at the Seniors Center to host the "Downsize or Stay" program. This presentation looks at the options available to seniors to help them decide whether they can stay at home or whether to downsize. This program is based on the personal experience of the facilitators, each having taken a different path, and on the resources they have discovered along the way. Register if you want to join us.
INFORMATION SESSION BEFORE THE CITY MEETING
There will be a pre-municipal meeting information session at the Seniors Center on Wednesday, November 10 at 2 p.m. Please register in advance.
YOGA CLASS
Yoga is the union between body, mind and spirit. Join us for our next 8 week yoga class session at 10:30 am on the following Fridays: November 12, 19, December 3, 10, 17, January 7, 14 and 21. The cost is $ 53 per person. Everyone is welcome. Come as you are, on your personal journey to greater self-awareness without judgment.
There is no prior physical condition to be able to develop a very meaningful and effective yoga practice, however, participants must be comfortable on the floor for an extended period of time with a yoga mat. Please pay for the course when registering.
LUNCH OUT
Our next lunch outing will be on Wednesday, November 17 at 1 p.m. at the Conrad restaurant. Call us to register before Monday November 15th and meet us at the restaurant on the 17th. For those who require van transportation, arrangements must be made before Monday November 15th.
BARBECUE FOR MEN
On Thursday November 18 at noon, men are invited to a barbecue at the senior center where they can eat and discuss men's issues. The cost for this program is $ 3. If you wish to join us, you must register with your payment of $ 3 before the Monday before the BBQ.
CHAIR MASSAGE APPOINTMENT
Sign up for a 15-minute chair massage at the Seniors Center on Thursday, November 18 with massage therapist Joanne O'Brien. The cost of $ 15 per 15 minute appointment. It's a quick and inexpensive way to experience the benefits of a massage. Make an appointment with your payment in advance.
TRAVEL WITH US TO MACKINAC ISLAND IN 2022
Join us as we travel back in time and travel to Mackinac Island in June 2022. Mackinac Island sits in Lake Huron between the Upper and Lower Peninsulas of Michigan and is considered "the Jewel of the Great Lakes". NO cars, NO chain hotels, just ferries, horse-drawn carriages, tandems, world famous fudge, unique shops, unforgettable sunrises and sunsets and a surrounding landscape that has been preserved as a monument national historic.
We will be traveling by coach from Foxboro June 6-13, and as we travel to and from Mackinac, we will visit places such as the Henry Ford Museum, Greenfield Village, the Rock & Roll Hall of Fame, Frankenmuth Bavarian Village and Niagara Falls in Canada, to name a few.
The cost of the trip is $ 2,240 pp double, $ 1,970 pp triple and $ 2,990 pp single, and this trip includes round-trip transportation, 7 nights of hotel accommodation, 14 meals and all gratuities. .
Registration for this trip has started. Call or drop by the Seniors Center to reserve your spot if you would like to join us.
ANNUAL PARTY PARTY AT LAKEVIEW
The holidays are just around the corner, so mark your calendar for Thursday, December 2 from 12:30 p.m. to 4 p.m. for our annual holiday celebration at the Lakeview Pavilion in Foxborough. This year's entertainment will be provided by "Jim the DJ". Doors will open at 12:30 p.m. and lunch will be served at 1 p.m.
The 2 meal choices are: Seared Boneless Chicken with Asiago Cheese Sauce OR Herb Crusted Cod with Herbs and Seasoned Breadcrumbs and Lemon White Butter. Meals include a green salad, fresh seasonal vegetables and a starch, with a chocolate mousse for dessert. There will be a cash bar.
Non-residents of Foxboro are also welcome to join us. The cost is $ 30 for Foxboro residents and $ 35 for non-residents. Tickets are on sale from October 15 to November 19, and you can purchase your tickets at the Seniors Center.
Transportation is available but must be booked in advance.
NOVEMBER CINEMA DAYS
The November films are National Geographic documentaries and the film will premiere the following Thursday at 1:00 pm: November 18 – "Miracle Landing on the Hudson" – This documentary tells the true and dramatic story of the spooky emergency landing and ultimately triumph of Flight 1549 in the Hudson River.
Register in advance.
SENIOR SANDWICHES
On Thursdays we have Grab and Go Senior sandwiches at the senior center. You can pick up your sandwich at reception on Thursdays anytime between 10 a.m. and 1 p.m., and you can take the sandwich with you, or you are invited to eat in the Coffee Room or on the outdoor benches. Quantities are limited, so you MUST pre-register to get your Senior Sandwich meal. There is a suggested donation of $ 3 to HESSCO.
SHINE
You can get health insurance information and assistance through the Serve Everyone's Health Information Needs (SHINE) program. A SHINE advisor is available on Tuesdays, from 3 p.m. to 6 p.m. for a "virtual" meeting by phone or in a Zoom meeting. This program provides free, confidential Medicare advice and assistance to Massachusetts residents who are or will be eligible for Medicare and their families. Call for an appointment.
[ad_2]
Source link