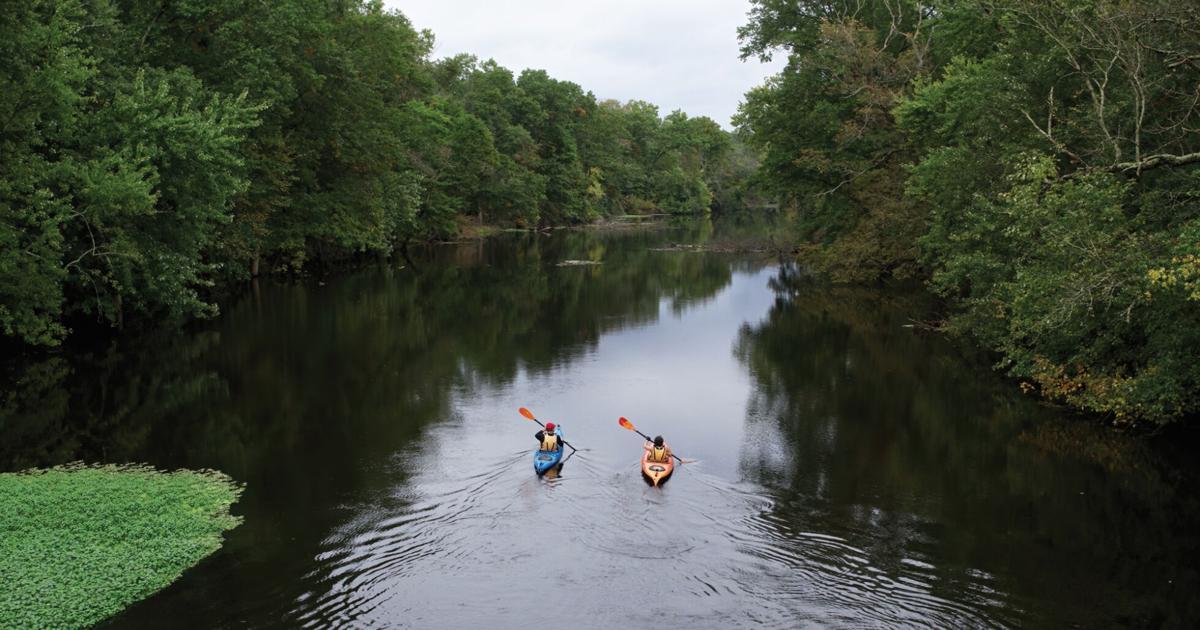 Environmental Film Festival Returns to Princeton Library | Between the lines
As Earth Day approaches on April 22, the Princeton Public Library presents a hybrid version of one of its signature events, the Princeton Environmental Film Festival. From April 1-10, the festival has 14 films available for online viewing for the duration of the festival, unless otherwise stated. Eight of them will also have in-person screenings in the Library's Community Room.
The schedule is as follows:
"Glory of the West: Saving Sage-Grouse in America the Beautiful" features the bird's conservation needs and the voices of key stakeholders in the conservation challenge, including ranchers, oil and gas developers , indigenous peoples, conservation professionals and government biologists. 32 minutes. Live screening Saturday, April 2, 11:30 a.m.
"American River" is a documentary about a four-day kayaking trip on New Jersey's Passaic River. The central character is Mary Bruno, who spent her childhood along one of the most polluted stretches of the Passaic and returns decades later to rediscover the river of her youth and tell her story. 86 minutes. Live screening on Saturday April 2 at 2 p.m. Online streaming available from Friday April 8 at noon to Sunday April 10 at 9 p.m.
"Storm Lake" tells the story of an old-school journalist who devoted his life to his family's bi-weekly newspaper in Storm Lake, Iowa. 85 minutes. Live screening Sunday, April 3, 1 p.m.
"WILD in the Garden State" is a story about connecting to the natural world in suburban New Jersey. Dave and Sarah are city transplants with no gardening experience who want a beautiful, eco-friendly garden. 30 minutes. Live screening Saturday, April 9, 1 p.m.
"Pandemic Plastic" is about the effects of ocean pollution and how to save us all from being suffocated by trash. 6 minutes. Live screening Saturday April 9, 2:30 p.m.
"Drift" is the story of Barnegat Bay, an estuary that is one of the most productive ecosystems in the country, and the last 50 years of human activity on the bay and the concerns engulfing the estuary. 78 mins. Live screening on Saturday April 9 at 3 p.m.
"My Garden of a Thousand Bees" features filmmaker Martin Dohrn who is about to film more than 60 species of bees in his small urban garden with breathtaking results. 52 minutes. Live screening Sunday, April 10, 1:30 p.m.
"Return Sasyk to the Sea" documents strange Soviet irrigation experiments in southern Ukraine that created a slow-moving eco-disaster. The Sasyk estuary on the Black Sea coast is the starting point of a battle between eco-activists, poachers, bureaucrats and corrupt officials. 60 minutes. Live screening Sunday April 10, 3 p.m.
"Farm Free or Die" shows how transformative agricultural policies can improve farmers' livelihoods while addressing the climate crisis. Stories of farmers on the front lines of severe environmental and economic hardship will catalyze support for policies that stabilize rural communities, enhance food security, and promote soil health and carbon removal. 30 minutes.
"Fire in the Wilderness" shows fire ecologists working to better understand wildfires and highlights the importance of fire as a fundamental natural process. 12 minutes.
"Food for the Rest of Us" examines how the return to the land is linked to other movements such as Black Lives Matter, Idle No More and Times Up. The film features four stories of people living their lives in their own way, serving as leaders and role models who lend their voices to the underdog and lead a revolution towards a better world. 83 minutes.
"The Humongous Fungus Among Us" tells the story of a quiet Upper Michigan town that becomes the center of an international media frenzy after three scientists discover a "Humongous Fungus" living nearby. 59 minutes.
"Into Dust" follows the journey of a woman who worked tirelessly to protect the water rights of Pakistan's poor and ended up making the ultimate sacrifice. 40 minutes.
In "Nothing But the Sun", Mateo Sobode Chiqueno has been recording stories, songs and testimonies of his Ayoreo people since the 1960s in an effort to preserve fragments of a dying culture. 75 mins.
"The Rescue" chronicles the dramatic 2018 rescue of 12 Thai boys and their soccer coach, trapped deep in a flooded cave. 107 minutes.
"Up on the Mountain" follows Southeast Asian refugees, Latino immigrants and rural Americans on a year-round migration to harvest wild mushrooms in the American West. 100 minutes.
For more information visit www.princetonlibrary.org/peff