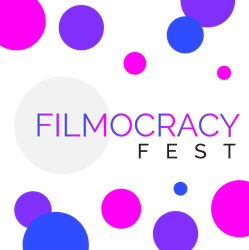 Filmocracy presents impact cinema at the second edition of the Filmocracy Fest
[ad_1]
"We hope that our passion for making impact films will show up in our programming," said co-founder Paul Jun, who developed Filmocracy For Change with co-founder and programmer Jon Fitzgerald. "Filmocracy is dedicated to supporting impact filmmaking through education, mentorship and programming."
LOS ANGELES (PRWEB)
December 07, 2021
Filmocracy, the world's leading digital projection, distribution and experience platform, has invested heavily in the emerging genre of impact cinema, which harnesses the power of cinema to effect social change, in its agenda. 2021. Filmocracy Fest co-founder Jon Fitzgerald said, "Like impact investing before it, impact cinema has the power to engage, entertain and inspire action. We are proud to focus on these films, exhibition and conference panels.
Fitzgerald, who literally wrote the book on the subject, Filmmaking for Change, continues, "Starting with our first in-person screening on Friday of The Six, to the closing night film Meat the Future, the festival is packed with great documentaries and stories in the social impact space — twelve in all. There will be Q&A after all in-person screenings, and all but one will have virtual screenings in addition to the live screenings, where festival-goers can watch the on-demand movies from 12:01 AM PST on Thursday, December 9 at 11:59 p.m. Sunday 12 December. The interactive hybrid festival features an Impact Expo on its 3D map, as well as a variety of venues with full details on the films, their related causes, how to get involved or take action.
Finally, Filmocracy Fest will host an online panel, Impact Filmmaking: Education and Call to Action on closing day, Sunday, December 12 at 11:00 a.m. PST. Since Participant Media ushered in a wave of social impact films, from Oscar-winning An Inconvenient Truth (2006) to Food, Inc. (2008) and The Cove (2008), we've seen the documentary space grow exponentially. Many of these films go beyond theatrical and streaming releases into education markets, creating lasting awareness and ongoing activations. Filmocracy will explore how these films inform and create change with their call to action.
The impact films are (in alphabetical order):
Anima In Cao Jinling's family film from Mongolia, we experience the deep connection between all living things and witness the mysterious retribution that nature exerts on humans who hurt it. The film deals with climate change and the preservation of the environment, forcing us to contemplate our relationship with Mother Earth.
End of the Line: The Women of Standing Rock Shannon Kring's film captures the ongoing story: the struggle for Native American and human rights against environmental degradation, government and the fuel industry fossils, as a small group of Indigenous women protesting the Keystone Pipeline become leaders of a global movement.
Tangled: The Race to Save Right Whales from Extinction Animal rights take center stage in David Abel's film about how climate change has accelerated a collision between one of the world's most endangered species, North America's most valuable fishery and a federal agency mandated to protect both.
Have you heard of Greg? The world premiere of Steve Ecclesine's first film puts a human face – that of Greg O'Brien – on the terrifying Alzheimer's disease, an invisible enemy that quietly kills millions of people around the world every year and will affect millions of people. others in the years to come.
The Hill Where the Lionesses Roar A co-production of companies from France and war-torn Kosovo, centered on feminism and women's empowerment, Luàna Bajrami's film focuses on three free-spirited young girls in Kosovo who engage in petty crime while eagerly awaiting the opportunity to attend college.
The Last Days of Spring This film directed by Isabel Lamberti is an examination of gentrification and human rights that follows a Spanish family as they struggle to make the transition, each in their own way, when the land they live on is sold and that she must go – build houses in a slum near Madrid.
Meat the Future This film brings science fiction to the table courtesy of Dr Uma Valeti, whose Upside Foods is at the forefront of a new industry: making meat from cells, not from cells. from animal slaughter. Musician (and vegan) Moby provides the music for Lisa Marshall's film as it deals with animal rights, sustainability and the agricultural revolution.
Reflection: A Walk With Water Tackling issues of environmental conservation, climate change and sustainable water use, Emmett Brennan travels 200 miles along the Los Angeles Aqueduct to the seeking a vision for humanity worth living – what he discovers has everything to do with water.
The Six Racism and xenophobia towards Asian communities in the West have sadly deep roots. Arthur Jones' untold story of the Chinese passengers of the RMS Titanic is an extraordinary examination of survival and dignity in the face of racism and anti-immigrant politics.
Storm Lake Art reporter Cullen and his family are fighting to inform and unite their rural farming community in Iowan through their newspaper, The Storm Lake Times. Jerry Risius and Beth Levison's film chronicles the newspaper's role as a civic watchdog protecting against agribusiness and the decline of credible journalism nationwide.
Try harder! In a top San Francisco high school with a majority of Asian American students, seniors stressed at the intersection of class, race, and educational opportunities are keenly aware of the intense competition for the few places. available at their dream colleges.
Witnesses The underground artists at the heart of the local DIY music scene within Jehovah's Witnesses of Minneapolis have their faith tested in a deeply personal way in Scott Holman's film. They fight for positive mental health and push the boundaries of their religion's standards, against draconian punishments for apostates.
"We hope that our passion for making impact films will show up in our programming," said co-founder Paul Jun, who developed Filmocracy For Change with Fitzgerald. "Filmocracy is dedicated to supporting impact filmmaking through education, mentorship and programming."
About filmocracy:
Filmocracy is a film and festival streaming platform, with a constantly rotating library of over 3,500 titles, that rewards users for discovering amazing independent films. Users earn virtual popcorn for watching and reviewing movies, which can be spent in their store to earn movie tickets, redeem gift cards, or attend virtual film festivals held around the world. Bringing together a powerful combination of technologies to enhance the virtual cinema and conference experience for filmmakers, industry professionals and audiences around the world. Filmocracy's mission is to help all independent filmmakers reach larger audiences and develop their communities through storytelling. Festival co-founder Paul Jun is the CEO of Filmocracy.
In December 2020, Filmocracy hosted the First Annual Filmocracy Fest, a fully digital juryed film festival. Filmocracy Fest presented a list of 44 films; panels; mentoring program; live shows; script readings; partners linked to a cause; and dozens of virtual conversations with directors and industry talent. Jon Fitzgerald was executive director.
Liquid Media Group Ltd (NASDAQ: YVR) has joined Filmocracy as a main sponsor.
For press kits, images, graphics, clips or anything else visit:

https://www.dropbox.com/sh/0mhfzu99razem4k/AADxeUOy3WT9fdSMuwpMZSoca?dl=0
Be social!

Web: https://filmocracyfest.com/

Twitter: https://twitter.com/filmocracy2

Facebook: https://www.facebook.com/filmocracy

Instagram: https://www.instagram.com/myfilmocracy/

[ad_2]
Source link