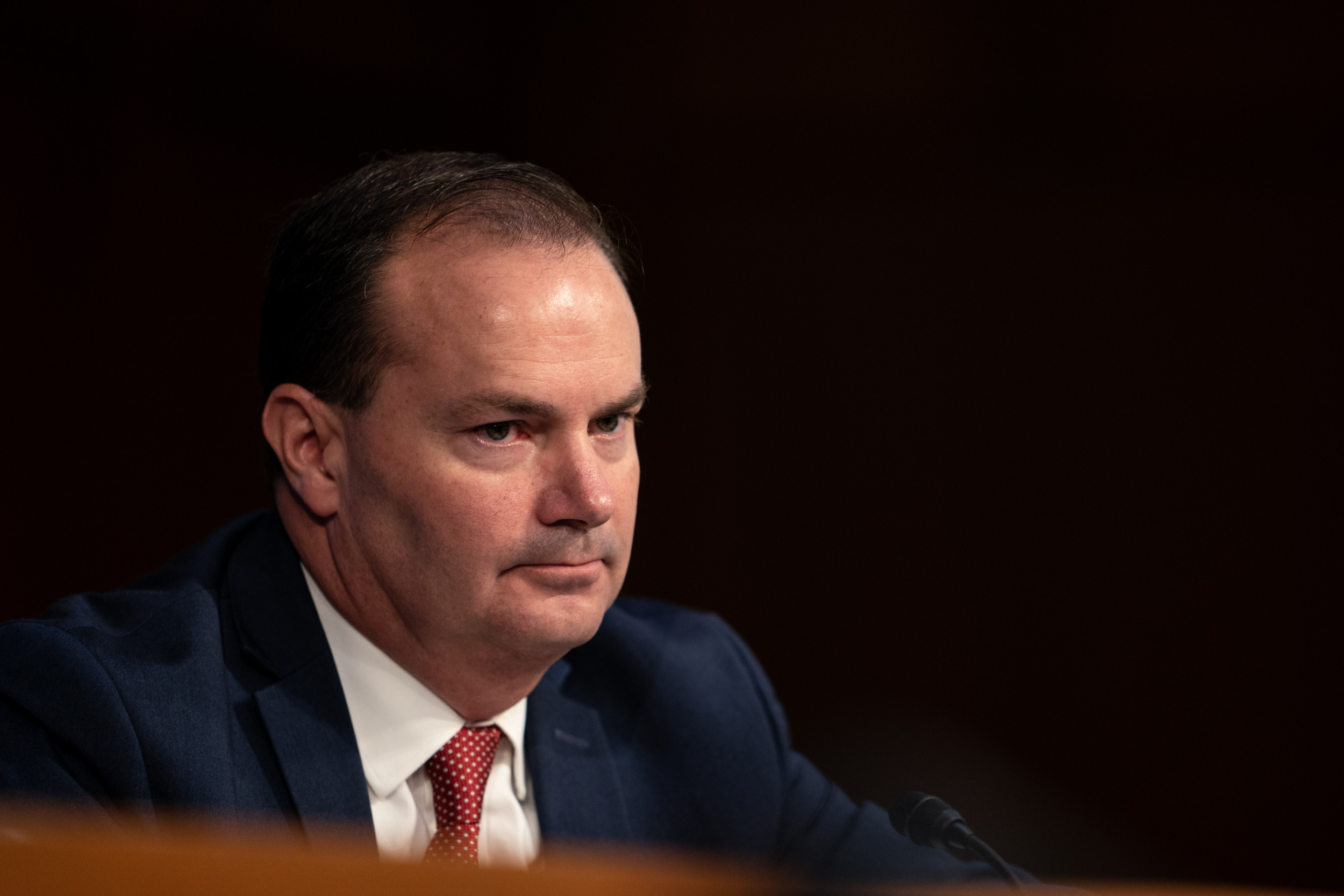 Fox News host confronts GOP's Mike Lee with fake election conspiracy text messages
[ad_1]
Fox News host Shannon Bream asked the senator mike leea Utah Republican on Sunday about text messages he sent to former White House chief of staff Mark Meadows in an alleged effort to overturn the results of the 2020 presidential election.
During an interview on Fox News SundayBream cited comments made earlier this week by a Utah independent Senate candidate Evan McMullin, who said the incumbent senator "actively helped plan the effort to recruit fake voters and overthrow our election and American democracy."
The two Senate candidates squared off in a debate on Monday, which was the first and only between the two with less than three weeks to go until the midterm elections. A survey by FiveThirtyEight showed Lee is "clearly favored" to retain his Senate seat as he is expected to defeat McMullin 95 times out of 100.
Meanwhile, in texts at Meadows, Lee said he tried to find a way to declare the former president donald trump as the winner of the 2020 election instead of Joe BidenCNN reported last Tuesday.
"If a very small handful of states were to have their legislatures appoint alternate slates of delegates, there might be a way," Lee wrote to Meadows on Dec. 8, 2020, according to CNN.
On January 3, 2021, Utah senator texted Meadows"I only know it's going to end badly for the President unless we have the Constitution on our side. And unless those states submit new lists of Trump voters according to state law, we don't. will not do."
The next day, January 4, Lee texted the former chief of staff, "I spent 14 hours a day last week trying to fix this for him. [Trump]."
Lee's efforts have focused on the possibility that some states won by Biden could potentially nominate pro-Trump Electoral College voters instead. However, he ultimately voted to certify Biden's victory.
Bream asked Lee to explain those texts, saying McMullin said "the texts speak for themselves" about his alleged attempts to undo Biden's victory.
"There is not an ounce of truth in what he [McMullin] suggest there," the Republican senator said. "The fact is that rumors circulated in the days and weeks leading up to January 6 [2021], with rumors suggesting some states are changing their voter rolls. Now, as a U.S. senator, it was my job to open and count the electoral votes on January 6, and we were trying to figure out what was truth and what was fiction."
He continued: "I made phone calls to investigate the veracity of these rumors…not to defend them; just to investigate their veracity. This is the only scenario in which Congress would have had a role. I concluded after my investigation that the rumors were false and on that basis I voted to certify the results of the 2020 presidential election."
Bream then asked Lee about his text at Meadows on January 4, in which he told the then chief of staff that there might be a way forward with state legislatures, telling Lee "that the way to follow would suggest you were at some point on board with the idea," in reference to alleged efforts to change the outcome of the 2020 election.
"No, look, the point here was that there was only one way and [with] this way I was trying to get the White House and the [former] The president's team to recognize that this was the only way if a state concluded that it had improperly certified its election results and, based on that, moved its voter rolls, which would be the only way to TO DO."
He added: "My point was to say we need to find out if that's the case and I wanted the [former] The President's team recognizes that this would be the only scenario in which Congress would have a role to play. [But]there were none, and on that basis I voted to certify."
During Monday's debate with McMullinLee confirmed that Biden won the presidential election "fairly," although there was "margin of debate" about whether some states ran their elections "better" than others.
Additionally, McMullin accused Lee of voting to certify the 2020 election results "in the same way that someone knows a plot that doesn't quite work."
Newsweek contacted McMullin's media office for comment.
[ad_2]
Source link