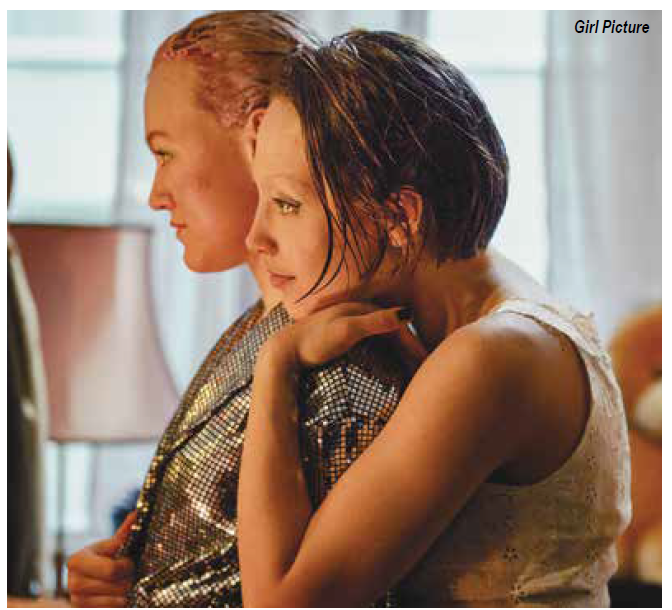 More movies to see as Frameline46 enters its final weekend – San Francisco Bay Times
[ad_1]
By Gary M. Kramer–
There's still plenty more to see as the Frameline Film Festival continues in theaters until June 26, with many titles streaming online from June 24 through June 30. See the organization's website for details: https://www.frameline.org/
In the meantime, here's a rundown of what to see.
please baby please (June 23, 6 p.m. AMC Kabuki 8) is a very particular film, very stylized, but uneven. Arthur (Harry Melling) and Suze (a very expressive Andrea Riseborough) have a life-changing encounter with Teddy (Karl Glusman) and his gang, The Young Gents. The film, directed and co-written by Amanda Kramer (no relation), is affected by both camp and '50s sensibilities that will either charm or annoy. Kramer coats each scene and fetishizes his characters — Teddy in particular (Glusman exudes sex appeal) — as they pose, fight, sing, and dance. please baby please isn't just about the mood, though. Her characters weave heady commentary on gender, masculinity, and vulnerability. Harry claims he "doesn't feel the need to act like a man", while Suze becomes more masculine over the course of the story. There are also some nifty musical numbers and striking vignettes, from one featuring Maureen (Demi Moore) as a "slum starlet" neighbor, to a scene in a club with an attractive gay character, and another sequence. in a Bijou cinema. please baby please may seem like overdoing it, but it's a unique and sometimes impressive achievement.
It's in all of us (June 23, 8 p.m. AMC Kabuki 8) has Hamish Considine (Cosmo Jarvis), a Brit traveling to Ireland to tend to his late aunt's house. En route, however, he gets into a nasty car accident that kills one boy but spares another, Evan (Rhys Mannion). As Hamish and Evan strike up an uneasy friendship, Hamish learns more about his family, especially his late mother. It's in all of us is all about the grief and pain these two lonely characters feel and how they rely on each other to cope, but it's not particularly gay. (There's only a slight homoerotic tension.) It's also not particularly illuminating, as writer/director Antonia Campbell-Hughes emphasizes atmosphere, but plot. Nonetheless, Cosmo Jarvis gives a stunning performance – a scene of him tending to his wounds, in particular, is quite stunning.
Maybe one day, (June 23, 1:15 p.m., AMC Kabuki 8; also streaming) is a modest, low-key, and engaging drama about the non-binary Jay (writer/director Michelle Ehlen), who decided to move across the country after splitting from his wife, Lily (Janeen Robinson). On his journey, Jay stops and stays with Jess (Shaela Cook), his growing best friend (and secret crush). She also befriends Tommy (Charlie Steers), a gay comedian who is funnier offstage than onstage. Maybe one day looks back at Jay and Jess as teenagers, but the best scenes are the chill moments featuring Jay and Tommy shooting pool, camping, or performing in drag. Jay's friends might cheer him up, but Ehlen is more interested in making viewers feel the pain of depression and grief. The filmmaker gives a poignant performance as Jay has various emotional responses to the people in his life.
my emptiness and me (June 24, 6 p.m., Roxie; also streaming) is a wonderful comedy-drama about Raphaëlle (co-writer Raphaëlle Pérez), a transwoman navigating the dating scene and her gender identity. She wants someone to love her the way she is – she decides to have surgery – but most men are wary, if not downright disagreeable, about dating a trans woman. Raphaëlle regularly meets other trans women and participates in artistic projects, such as a play, which help her determine what she wants and who she is. my emptiness and me is a fantastic showcase for Pérez, and a charming and hopeful love story wrapped in a poignant drama about self-acceptance.
girl picture (June 24 at 6 p.m., Castro) is a terrific Finnish romantic drama about three young women struggling with love, sex, and their highly sensitive emotions. Mimmi (Aamu Milonoff), a lesbian, and her straight best friend, Rönkko (Eleonoora Kauhanen), work together at a smoothie bar. Mimmi is tough and acerbic, but when she meets Emma (Linnea Leino), a figure skater, she lets her guard down and becomes romantic. Emma, ​​whose life has been dominated by sports, falls hard in return and discovers a sense of freedom and rebellion. Director Alli Haapasalo's film is refreshing for allowing its heroines to make mistakes and misbehave because they are inexperienced and scared. All three leads are engaging and feel clunky and real, which is why the film is so gratifying.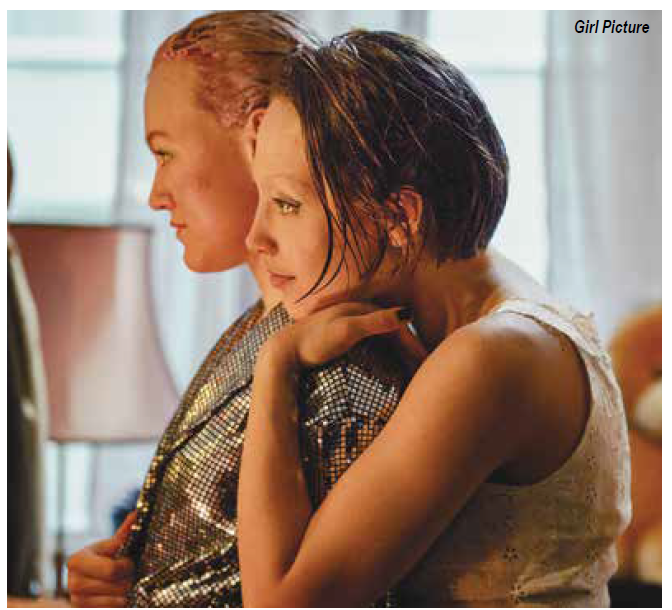 Three Tidy Tigers tied a tighter tie (June 24, 6 p.m. New Parkway; also streaming) is Gustavo Vinagre's whimsical comedy about two housemates – sex worker Pedro (Pedro Ribeiro) and student Isabella (Isabella Pereira) – spending the day with the nephew of Pedro, Jonata (Jonata Vieira), who came to town for his HIV treatment. Filmed during the pandemic, amnesia seems to be the dominant symptom as various characters have memory issues. There's a sweet scene of Jonata cracking a man's back in Roosevelt Park and a tender moment between Pedro and his client Omar (Everaldo Pontes), but much of this subversive film tackles issues of race and class. – there are several references to "crapitalism". – as well as regression and oppression. Vinagre concocted a shaggy film with moments of magical realism, as well as an eerie musical sequence. It is an ambitious and inventive film. It may not be for everyone, but it certainly has its charms.
Esther Newton made me gay (June 25 at 1:15 p.m., Roxie; also streaming), is a valentine to the titular cultural anthropologist and canine agility trainer. Director Jean Carlomusto traces Newton's life, from her childhood and awareness of her sexuality and butch identity, as well as her early experiences as a lesbian, to her activism ("The personal is political." Inspired by Margaret Mead and Gertrude Stein, Newton pioneered queer studies in academia, writing about drag queens and gender roles. Esther Newton made me gay celebrates the life, loves and influence of this pioneering figure in queer studies.
Ms. Vera's full logbook (June 25, 1:15 p.m., Castro; also streaming) is an effusive documentary about San Francisco icons David Faulk and Michael Johnstone, who created the drag character Ms. Vera and her fabulous colorful outfits. The film by director Robert James tells the story of David and Michael, who lived through the AIDS crisis; both are HIV positive. They have thrived on creating a 'diary' of photographs featuring Ms. Vera and have helped establish the 'VeraSphere', a larger community of fans, friends and followers who join them in the annual parade of the pride. The joy they bring is contagious, and Mrs. Vera' Daybook celebrates the style and charm of these inspiring men.
The sixth reel (June 25, 3:30 p.m., Castro; also streaming) is the latest cinematic piffle from iconic drag performer Charles Busch. Jimmy (Busch) is a small dealer in classic film ephemera. When his friend Gerald dies, Jimmy and Gerald's niece Helen (Julie Halston) holds an estate sale and comes across the last reel of a Lon Chaney film thought to be lost. This discovery soon creates a mad scramble among rival collectors. Will NYU professor Michael (Tim Daly) donate it to a museum? Will Doris Pang (Margaret Cho) sell it to the highest bidder? Jimmy puts on the drag (in classic Charles Busch fashion) to find out. If this light-hearted comedy is about as fickle as nitrate film, Busch, working with his co-writer/co-director Carl Andress, generates a few smiles from a few barbed one-liners, and the cast of the game fuels those Hollywood dreams.
Little Evil (June 25, 8:30 p.m., New Parkway; also streaming), is an interesting hybrid documentary/fiction about a band: Marti (Silvia Varón), Anto (Anta María Otálora) and Laia (writer/director Ruth Caudeli). The strong bond between these three lovers is felt in the opening scenes where they share paella and play word games. However, when Laia leaves for a job, Marti and Anto are deprived. The film switches to black and white to express their loneliness – Anto performs a poignant song – and calls with Laia freeze or drop. Laia cries and misses her girlfriends when they hook up. Little Evil artfully examines the difficulties of maintaining an equilateral balance in the relationship, especially as Marti and Anto grow closer during Laia's absence. When they get mad at Laia for not responding to their messages, there is a noticeable silence when Laia returns from her trip. Little Evil examines the unique dynamic of this troupe, and it's hard not to encourage them to stick together, if only because they all look so adorable in their matching sleepwear.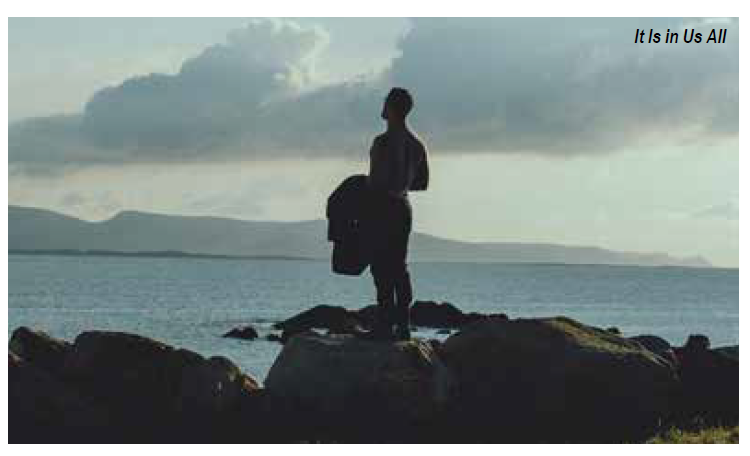 Pat Rocco dared (June 25, 9:15 p.m., Castro; also streaming) is a loving valentine for the pioneering filmmaker and gay activist who died in 2018. Rocco began making films in 1966 featuring naked men in a sex-positive way – kissing and cuddling, posing on a highway, even with a pogo stick! A short film, which depicts a gay couple in love at Disneyland, has been banned. Rocco's films were erotic but never pornographic. They portrayed a "perfect queer world", where being gay was not an issue, and perhaps that's why they were so popular. Pat Rocco dared released gay filmmaker Charlie David interviewing Rocco about his work. David also asks Rocco about his activism, including helping Harvey Milk get elected, coordinating the first Pride Parade (not running), helping LGBTQ homeless people, and documenting transgender lives. One of the best sequences shows how David's movies were influenced by Rocco's. This engaging documentary should inspire viewers to seek out Rocco's work.
© 2022 Gary M. Kramer
Gary M. Kramer is the author of Independent Queer Cinema: Reviews and Interviews and co-editor of Directory of World Cinema: Argentina. Follow him on Twitter @garymkramer
Posted on June 22, 2022
[ad_2]
Source link