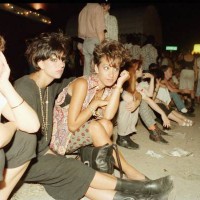 Realscreen » Archive » Inside Out Film Festival unveils its 2022 line-up
Stories of LGBTQ+ bars, professional wrestlers and the history of London's 'New Romantics' movement are among the documentaries on offer at this year's Inside Out Film Festival, which has unveiled the lineup for its 32nd annual event.
The festival, which champions 2SLGBTQ+ filmmakers around the world, will run from May 26 to June 5 in Toronto and will showcase 128 films from 28 countries (including seven world premieres), including 38 feature films and three episodic series.
The world premiere of Marcus Pontello Friday I'm in love highlights the festival's documentary offering. The film takes a look at the beloved Numbers nightclub in Houston, Texas, and discusses the importance of LGBTQ bars and nightclubs in providing safe spaces for gay people.
Other documentary highlights from this year's lineup include Walkway Grinding by Jacquie Lawrence, on the story of a legendary lesbian bar called The Gateways Club; Out in the ring, on the history of professional LGBTQ+ wrestlers; and that of Maris Curran Jeannettean intimate profile of a survivor of the Pulse nightclub shooting in Orlando, Florida.
The documentary feature Tramps! by director Kevin Hegge, who chronicles the "New Romantics" movement in fashion and music in 1980s London, is Inside Out's Centerpiece Gala selection for 2022, while Chase Joynt's Framing Agnes – which uses re-enactment and gender-blurring storytelling to tell the story of a young trans woman participating in a sexual disorders study to receive gender-affirming care – will screen digitally exclusively. Another digital exclusive is Sirens from director Rita Baghdadi, a portrait of the Middle East's first all-female metal band.
The Canadian premiere of Gabriel Martin's family drama march one will serve as the festival's opening night film, while the first two episodes of Amazon Prime Video's Canadian original scripted comedy Lake will close the festival.
"Inside Out has always been a space dedicated to the best in queer cinema, but the past two years have changed our thinking about what form a shared space can take," said festival programming director Jenna Dufton.
"As we embark on our first-ever hybrid festival, we have carefully selected films that affirm the idea that no matter where we are, we are all connected. Whether you're watching from home or joining us as we return to TIFF Bell Lightbox, we're proud to present films from nearly 30 countries, each providing an opportunity to learn, laugh, feel and, most importantly, , an opportunity for us to celebrate the power of queer cinema together.
The festival will also bring back its Pitch, Please! competition this year, which will take place in person on June 4. The annual short film pitch content will award a cash prize of $5,000 to a winner. The winner, along with the jury winners, will be announced on June 4 before the closing gala screening. Audience award winners will be announced after the festival closes.
This year's Canadian jury includes filmmakers Michael Hanley, JP Larocque and Sav Rodgers. The international jury includes Bears journalist/filmmaker Rebecca Fonte, producer Michael Souther and writer/producer Nathalie Younglai.
The documentaries included in this year's Inside Out lineup are:
GALAS AND SPECIAL PRESENTATIONS
Tramps! (Canada)
Directed by Kevin Hegge
A feature-length documentary on London's fashion and musical movement, the New Romantics.
ICON SELECTIONS
Fiona Clark: Fearless (New Zealand)
Directed by Lula Cucchiara
A documentary about artist Fiona Clark, who defends invisible individuals, hidden communities and the land she inhabits.
Framing Agnes (Canada/USA)
Directed by Chase Joynt
A cast of transgender artists and performers use gender-blurring re-enactment and storytelling techniques to present untold stories of mid-century pioneers redefining the genre.
Friday I'm in love (WE)
Directed by Marcus Pontello
A look at Numbers nightclub in Houston, Texas, which was a key gathering place for queer communities.
brownie (WE)
Directed by Maris Curran
A moving tribute to the resilience of Jeannette Feliciano, a survivor of the Pulse nightclub shooting in Orlando.
Sirens (USA/Lebanon)
Directed by Rita Baghdadi
An all-female metal band grows during the war in Lebanon.
INTERNATIONAL SHOWCASE
Beyond Ed Buck (WE)
Directed by Jayce Baron, Hailie Sahar
The documentary follows the murders that took place at the hands of a well-known Democratic political donor.
Bloom on the asphalt (Brazil)
Directed by Coraci Ruiz, Julio Matos
Offers a unique perspective on a young Brazilian trans man whose life is changed when the country faces a global pandemic and an intolerant government.
Walkway Grinding (UK)
Directed by Jacquie Lawrence
A film about one of the UK's most famous lesbian bars.
La Queencianera (Mexico)
Directed by Pedro Peira
A film about Los Angeles-based Latina trans activist Bamby Salcedo.
Out in the ring (Canada)
Directed by Ry Levey
This documentary explores the history of professional LGBTQ+ wrestlers and their representation in the sport.
SPOTLIGHT ON CANADA
Pat Rocco dared (Canada)
Directed by Morris Chapdelaine, Bob Christie
A film about the life and career of pioneering gay independent filmmaker Pat Rocco.
The Empress of Vancouver (Canada)
Directed by Dave Rodden Shortt
A film about Vancouver's maverick drag diva and performance artist Oliv Howe.
With wonder (Canada)
Directed by Sharon Lewis
An intimate look at members of the queer Christian community of color.