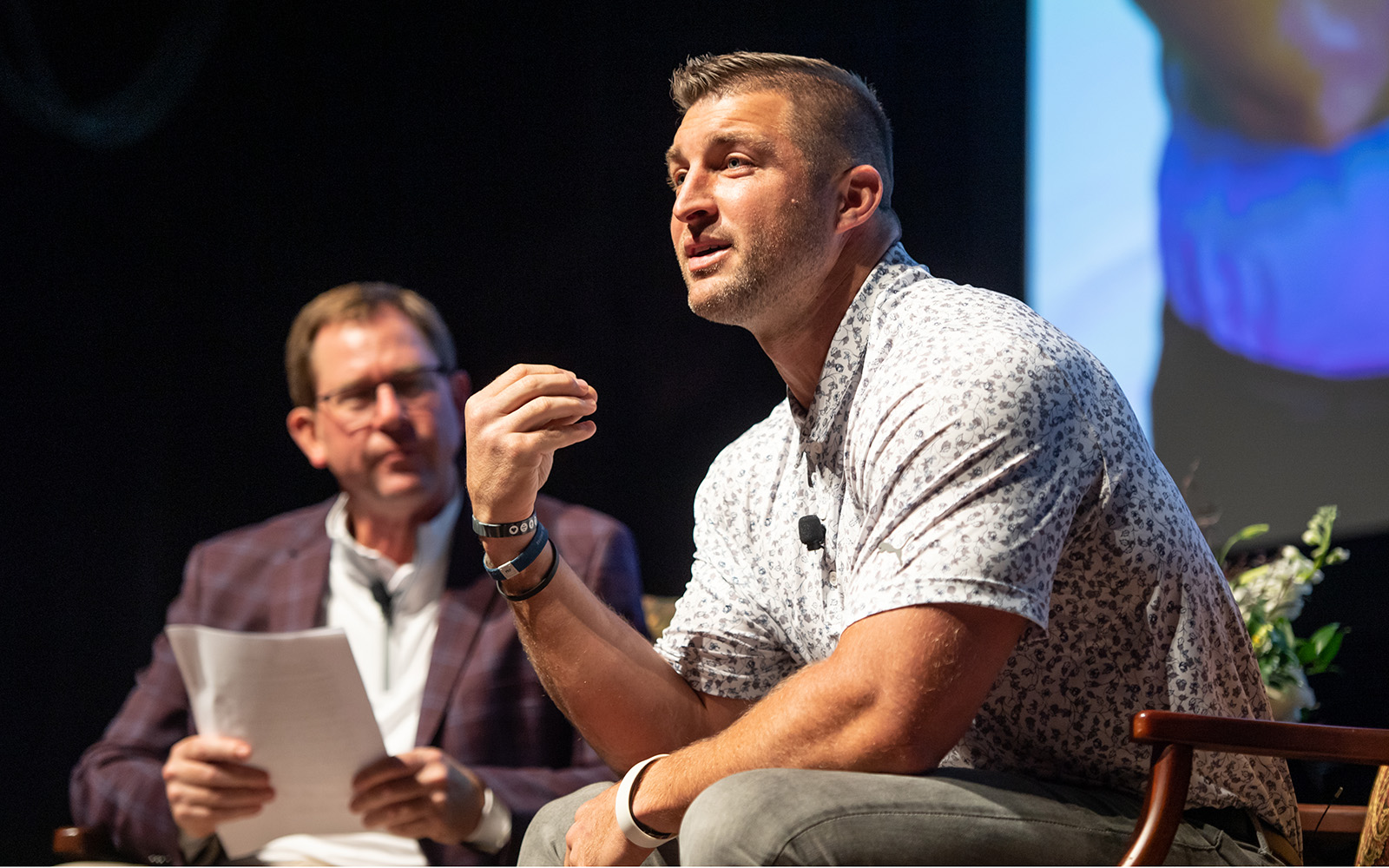 Tebow challenges MSU students to find their calling and help others
[ad_1]
Contact person: Carl Smith
STARKVILLE, Mississippi—Tim Tebow, one of the most decorated Southeastern Conference quarterbacks of the modern era and a two-time National Bowl Championship Series champion with the University of Florida, wants us remember him for helping others, not for his accolades.
"If I'm known as 'Heisman Trophy winner Tim Tebow' then I've missed my mark," he said.
Tebow challenged Mississippi State students to stay true to themselves, find their calling, and positively impact others on Friday. [Oct. 7] at Lee Hall's historic Bettersworth Auditorium. The former National Football League quarterback and professional baseball player was in Starkville as part of his duties as co-host of the SEC Network's 'SEC Nation', which will air live from The Junction on Saturday before MSU's game against the University of Arkansas.
Friday's event, "More Bells, More Goal: A Conversation with Tim Tebow," was hosted by the MSU Student Association. Tebow and MSU Athletic Director John Cohen, who moderated the conversation, touched on many important topics for students, from finding confidence and self-esteem to avoiding pitfalls of social media, while encouraging them to make a difference in the lives of others.
Specifically, Tebow encouraged students to ditch "one day life for today life" and start helping others now instead of delaying until the time is right for them.
"We don't know how many days we have left," he said. "If my whole perspective is centered on 'someday', how many people will I have missed? Don't miss the people you're hanging out with right now.
Tebow acknowledged his competitive nature, but said a life-changing moment in the Philippines with a child abandoned by local villagers because of his disability guided him to seek out "the most vulnerable people, not the trophies of the most valuable players".
Tebow also recalled seeing a malnourished child while on a mission trip to Thailand. The child, he said, was wearing a tattered University of Florida No. 15 jersey, a replica of his player jersey. That moment, he said, gave him more clarity on the importance of helping others versus the success on the pitch he experienced.
"He had no idea what that shirt and those trophies meant – they didn't do anything to help that boy," Tebow said. "When everyone was telling me I was someone, it was God reminding me that it was always about people.
"Each of us has a platform," he added. "Succeed, but be significant."
Tebow was one of the SEC's most prolific quarterbacks during the 2006-2009 college football seasons. A two-time BCS National Champion in 2006 and 2008, he also racked up numerous accolades and awards, including an MVP of the BCS National Championship in 2008 and the 2007 Heisman Trophy.
The Denver Broncos selected Tebow with the 25th overall pick in the 2010 National Football League Draft. His NFL career included stints with the New York Jets, New England Patriots, Philadelphia Eagles and Jacksonville Jaguars. He also spent five years with instructional and minor league baseball teams affiliated with the New York Mets.
After being the subject of numerous books, shows, and documentaries, Tebow began his broadcast career as an ESPN analyst in 2014 and is now primarily featured on the SEC Network's "SEC Nation."
Tebow is known for his many philanthropic activities and organizations, including the Tim Tebow Foundation. Former Florida Governor Rick Scott awarded Tebow the Great Floridian designation in 2013, which is awarded to those who have made significant contributions to the progress and welfare of the state.
MSU is the main university in Mississippi, available online at www.msstate.edu.
[ad_2]
Source link