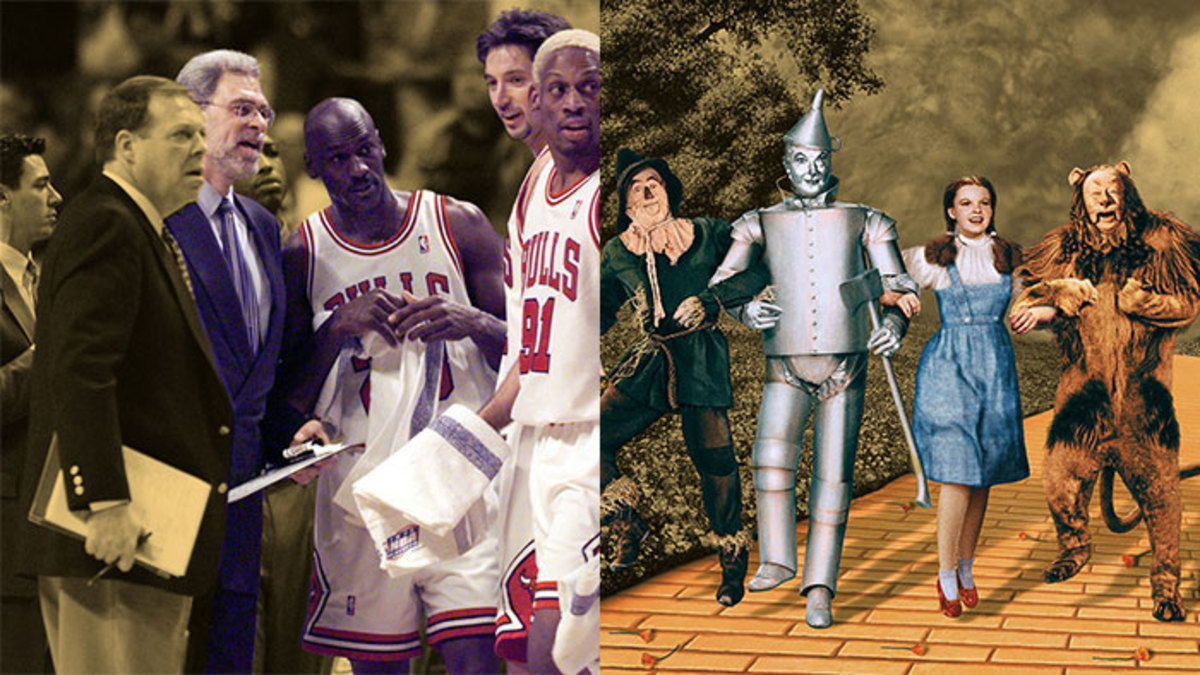 This time Phil Jackson made the Chicago Bulls watch 'The Wizard of Oz' to send a message – Basketball Network
[ad_1]
Eleven-time NBA champion Phil Jackson has always had a unique way of leading his championship teams. Whether it's incorporating meditation practices during practice, honing the triangle attack, or lighting up the sage in the locker room, Jackson has always been able to get his point across – no matter how hard the delivery method seemed strange at first.
In 1990, Jackson got pretty weird when he asked the Chicago Bulls to watch an edited mixtape of "The Wizards of Oz" featuring the Detroit "Bad Boy" Pistons.
A creative way to send a message
While they were still chasing that first ring, Jackson knew his team led by Michael Jordan and Scottie Pippen was dominated by the physique of the Pistons.
After all, the "Bad Boy" Pistons had a reputation for having an aggressive and hostile approach, which intimidated their opponents, which the Bulls Jackson knew and wanted his team to overcome their fear by sending a creative message.
"During the 1990 playoffs, I had shown the team a video with scenes from the "Wizard of Oz". The goal was to illustrate how intimidated the players were by the Pistons rough play. There was a shot of BJ Armstrong driving to the basket and getting beaten up by the Detroit front line, followed by a clip of Dorothy singing "It's Not Kansas Anymore, Toto". Another sequence showed Joe Dumars beating Jordan from the dribble, while the Tin Man lamented having no heart. Yet another had Isiah Thomas waltzed by Paxson, Horace and Cartywright as the Cowardly Lion complained of having no courage. The players initially burst out laughing, but it died down when they realized the message I was trying to convey," mentioned Jackson.
It probably wasn't fun for the Bulls to be portrayed as the characters from "The Wizards of Oz," but in fairness to Jackson, it was a creative way to wake up his team. Sadly, the Bulls lost to the Pistons (4-3) in a 7-game series in 1990, but the message likely stuck in their minds as they went out for revenge and swept the "Bad Boys" in 1991.
The message that went to the NBA League office
Jackson admitted he hadn't edited more films after 1991's 'Wizard of Oz'. However, the Zen master sent a different kind of message the following year – this time to the League of the NBA, where he showed a mixtape of the Pistons' harsh plays and cheap shots to put the league on notice. Jackson felt it was the best way for the league to wake up and realize his Bulls wouldn't turn around like this.
Whether through a series of game movies, an edited version of the "Wizards of Oz" or a compilation of the opponent's rigorous play, we must respect the Zen Master's innovative methods of putting his team in the game.
[ad_2]
Source link