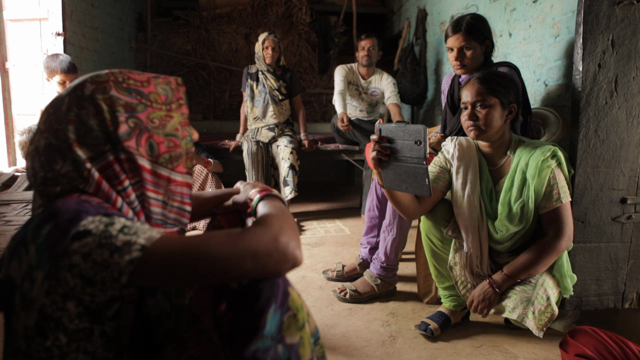 Writing with fire | midland express
[ad_1]
The countdown is on to Castlemaine Documentary Festival 2022, taking place at the Theater Royal from July 1-3.
The theme for this year's event is 'Making the Possible Possible' and the team behind this year's event have once again exceeded expectations to find a range of films that feature 'true stories'. Real problems. Real characters. Real Conversations'.
Festival director Claire Jager said many of this year's films tackle the big, heavy ideas that consume us and are told through the distinctive and intimate lens of each filmmaker's vision.
"True stories about people creating change, who are driven to rebel. They help us see what is possible, telling us real stories with all the drama and complexity that we humans face," Jager said.
A good example is write with firewhich will screen on Saturday, July 2 at 1:30 p.m. and is a rousing documentary about the tenacious reporting from below and the galvanizing of resistance.
Armed with smartphones, a fearless group of pioneering journalists from India's only female-run media risk everything, including their own safety, to confront social injustice while fighting for marginalized voices in the world's largest democracy.
Chief Reporter Meera and her reporters are breaking tradition, whether on the front lines of India's biggest issues or within the confines of their homes, redefining what it means to be powerful.
Born into a poor Dalit ("low caste") family and married at 14, Meera went against her conservative culture to study and become a journalist.
Meera leads her team of 28 semi-literate, professionally trained journalists to transform the newspaper into a regional digital press force.
As her team experiences their first taste of digital democracy, their video reports on corruption, violence against women, rutted roads and inadequate public health care begin to catch on, disrupting mainstream news outlets run by women. men.
In the film, we see this journey – fraught with threat, danger, hope and sacrifice – through the eyes of our central protagonist Meera and her fiery protege, Suneeta.
Directors Rintu Thomas and Sushmit Gosh say write with fire is a story of our time.
"This is the first time that modern Dalit women will be seen on screen, not as victims of their circumstances but as writers of their own destiny," they said.
"India is a deeply complex country. For over 3000 years, we have had a social hierarchy in place that divides Indian society into four distinct groups of people, known as the caste system.
"Like racism, it is a system of exclusion but worse, because caste is invisible.
"A person is considered a member of the caste they were born into and remains in that caste until their death, caste sticks to the deepest part of your being – your identity," the administrators said.
The film will be followed by a panel discussion moderated by longtime Castlemaine moderator and host, Suzanne Donisthorpe. She will be joined by artist Tracey Naughton and speaker and documentarian Shweta Kishore.
Naughton's core interest is in the textile arts, public art and technology, particularly the content they convey, as a means of fostering democratic participation, communication and development.
Kishore lectures on screen and media at RMIT University and is a documentary practitioner and author of Indian Documentaries and Filmmakers: Independence in Practice (2018). Shweta's research focuses on Indian documentaries, feminist films and film festivals.
To book your tickets for write with fire and other C-DOC screenings, visit the website at cdocff.com.au
[ad_2]
Source link